You may have tried meditating regularly, at some point in your life, or you consistently practice it. During meditation, you might have noticed vibrations throughout your entire body. Have you ever wondered why you are actually feeling those vibrations while meditating?
The vibration you feel when you are meditating is the result of your body "opening up" and taking in vibrational energy which is connected to the many benefits that meditation has to our way of living.
When you are meditating, you might feel unused to the vibrations you feel as you go deeper and deeper into your meditation. Such vibrations are completely normal as long as you are doing your meditation right. In fact, meditation is one of the ways you can improve your vibrational energy, which can be beneficial to your life.
What is vibrational energy?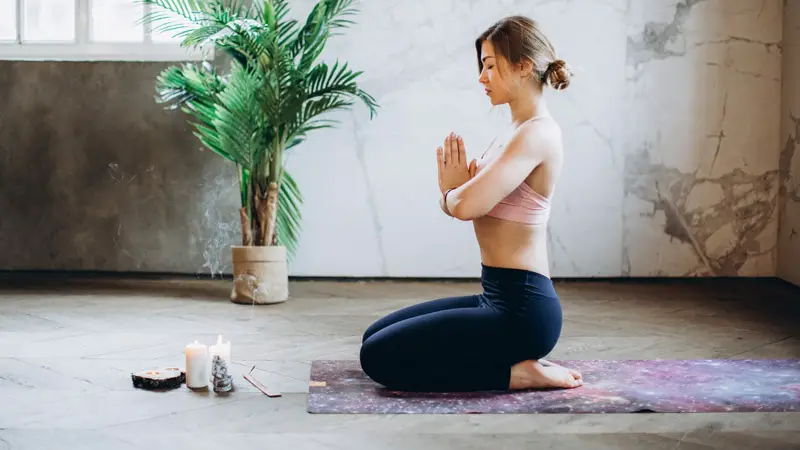 Not a lot of people know this but it is a fact that your body is a living and breathing energy field that is full of different types of energy. That is because you are made of millions of tiny particles that each produce their own energy and are always in constant motion or vibration. As such, you are constantly moving, vibrating, and producing energy throughout your daily life.
This might sound a bit spiritual but there is something we call vibrational energy. It is suggested by researchers that the vibrations that the cells in your body feel and receive can actually change them in such a way that they can affect the way your body functions. A good example of what can change the vibrations of the different cells and molecules in your body is temperature, and that is why your body feels more relaxed and more at peace when you are soaking in a hot tub after a long week at work. It is not merely something that is spiritual or psychological as there are plenty of different ways that your vibrational energy can be affected.
How exactly do our vibrations related to the way we think and act? One good example is anxiety because, when we are anxious, our body naturally releases stress hormones that can speed up the movement of our heart, which can ultimately also change the way our body vibrates.
Another thing that should be noted is that experts also believe that these small vibrations happening throughout our body and our environment can affect our thoughts and behavior as well, and that is why vibrational energy can affect both our mental and physical health.
What are the benefits of positive vibrational energy? For starters, it can change or alter your mood and make you feel better (going back to our hot tub example). It also improves physical health and well-being when you alter your vibrations whenever you are exercising. Vibrational energy can even make you more focused on your goals and your tasks.
Vibrational energy does have its effects on you, that is why you should try to seek out activities that can change or alter your vibrational energy positively, i.e what makes you feel good.
Does meditation raise your vibration?
In relation to how we can raise our vibration or alter our vibrational energy, one of the ways for us to do so is to meditate. Yes, meditation is a good way for you to raise your vibrations as you might have actually already experienced.
The reason why meditation can make you experience vibrations or even raise your vibrational energy is that you are essentially opening up your body to vibrational energy around you, as you keep your body relaxed to allow it to feel the surroundings. Focusing your attention on bodily sensations or even something as simple as your breathing while you are in a comfortable state in a quiet area can allow your mind and body to change how they respond.
Also, research suggests that the constant chanting of "om", a common chant during meditation, produces rhythmic vibrations that can help deactivate the part of the brain that is responsible for processing your emotions. This, in effect, allows you to alter your vibrations as you are allowing your body to open up to surrounding vibrational energy. Moreover, your mind and body are no longer focused on processing your emotions and thoughts.
In other words, the deeper your meditation is, the more likely you will be able to raise or alter your vibrational energy and reap the benefits of such practice.
What are the signs of deep meditation?
We talked about how deep meditation can help alter your vibrational energy. Other than feeling vibrations throughout your body, how do you know you are in a state of deep meditation?
Forgetting that you are actually meditating is a sign that you are in a state of deep meditation, as it involves a loss of awareness of your surroundings and what you are doing.
Time lapses can also be a sign of deep meditation because you become unmindful of how long it has been since you started meditating. This is not the same as the time-lapse you experience when you are sleeping or napping because you are still in a conscious state while meditating but you just aren't minding the time as you get lost in your own deep meditation.
Finally, another sign of deep meditation is when your entire body feels relaxed. It's as if your body is melting and just falling off into the ground and your limbs are limp. This is when you would know that you are so focused deeply in your meditation that you are no longer minding your physical state at that moment, as you are at your most relaxed.